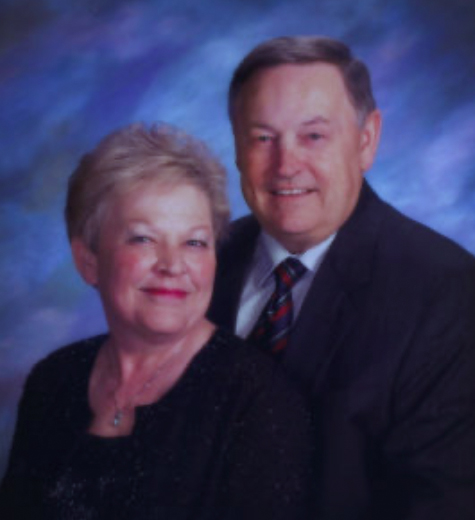 Don and Sally Schmaderer started getting phone calls to come back home in 1966.
The voice on the other end of the line was J.G. Brewster, Sally's father and president of Stuart's Tri-County Bank (TCB). He sought someone to take over management duties at the institution, and the young couple came quickly to mind.
After some thought, Don and Sally decided to make the trip back to Stuart from Galesburg, Illinois, in 1967. Throughout the intervening decades, the Schmaderers have been a prime example of what hometown returners can inspire in their communities.
"The towns that have those kinds of talented folks return are the kind of towns that are generally successful," said John Madsen, a longtime family friend, local business owner and member of TCB's board of directors. "Don and Sally were unselfish enough to return to their home and make it a better place."
The couple's influence has reached just about every sphere of public life, from banking to parks to the arts to housing. Using their seemingly limitless local knowledge and wealth of community contacts, the two built up a catalogue of work that continues to inspire residents.
"They were able to touch a lot of different things in the community," said Don and Sally's son, Jon Schmaderer, who now serves as TCB's CEO and president. "Mostly with their time and talent."
STUART ROOTS
Born and raised on a small family farm outside of Stuart, Don had been a standout football player in high school. His talent on the gridiron earned him a spot on the roster at Chadron State, about 200 miles west of Stuart in the Nebraska panhandle.
"My dad thought that was a little far," Don said. "He couldn't get me home to milk cows on the weekend."
He graduated with an education degree, which he used while teaching in St. Paul, Nebraska. After that, he and Sally found their way to the University of Iowa where Don studied physical therapy. He was practicing in Galesburg when he got the call to return home.
Though he enjoyed the work, the profession didn't seem like the right path for him at the time. He was working in a hospital, away from the public.
"I didn't want to be indoors in the basement of a building the rest of my life," Don said.
In the years since leaving Stuart, Don realized he had always wanted to work in the business realm. As a younger man, he didn't know exactly how to follow that path, but the opportunity at TCB opened the door.
"I was a businessman," Don said. "That's what I liked."
Sally was born in Rushville, Nebraska, but she considered Stuart—where her family relocated to in 1945—as her hometown.
She was the 1960 Stuart Public School valedictorian, and she studied home economics at Colorado State University and then at the University of Nebraska-Lincoln.
Sally's mother, Vera, had been a vaudeville dancer, and she passed that appreciation for the arts down to her children. That passion remained strong for Sally throughout life, as she took a strong interest in enriching Stuart's arts community while working with the Atkinson-Stuart Arts Council.
She also found a niche in housing rehab, said Stuart Village Clerk Mark Stracke. Her roots in the community and her knowledge proved indispensable to that endeavor.
"She knew every person that applied and knew their history," Stracke said. "She probably knew the layout of their house."
Madsen, the Schmaderers' neighbor for more than three decades, said Sally was like a big sister to him. Her love for her community was an inspiration to everyone who crossed her path.
"She was one of the greatest ladies in north central Nebraska, as far as I'm concerned," he said.
Don and Sally ran the bank as co-leaders, each with their own strengths that complemented those of their better half.
"She had her way of influencing people that I didn't have," Don said. "We were a team. We worked as a couple."
Sally passed away in 2009, and the community poured out in droves to honor her and her generosity to the community.
"Sally's funeral was huge," Stracke said. "It was one of those that filled the church."
The outpouring of love was a testament to how much Sally's work had benefited the community—and how much she would be missed.
"We had a little hole in our heart when she left," Madsen said.
NOT A BANK STORY, A COMMUNITY STORY
Tri-County Bank, since its inception, has strived to be not just a financial institution, but an extension of the community. After all, It was community leaders who put their heads together to bring a banker to town in 1945, according to the TCB website. That man was J.G. Brewster, who at the time was a banker and attorney in Rushville. On Nov. 17, 1945, TCB ended its founding day with $153,025 in assets—$110,000 being new deposits. That was a good harbinger of the intertwined relationship the community and the bank share to this day.
The bank is grateful for that sort of engagement, and, in all its 75 years, TCB has not strayed from its mission to serve. Leadership and employees understand that a community bank is only as successful as the people it serves. That means bolstering local businesses, from appliance stores to farmers.
"They are really aware of what's necessary to keep the businesses on main street in these small communities viable," Madsen said.
The community and TCB are entwined, and leadership hope to continue that relationship thriving into the future, for the next 75 years.
"It's not a bank story," Jon said. "It's a community story."
KEEPING THE TREASURE IN STUART
While doing his work with the bank, Don realized a substantial chunk of the community's wealth could be
destined to leave the area if local leaders did not act to secure funding. Much like the rest of the state, Stuart's treasure was poised to change generational hands between 2000 and 2050. Some of that wealth would stay nearby, but other portions might leave the area permanently should the community not seek to keep it within its confines.
"You see a lot of the money leave the community," Stracke said. "I think Don saw that as a way to keep some of that intergenerational wealth in the community."
Don started researching Nebraska Community Foundation (NCF) in the late 1990s, attending meetings and bringing the information he learned back home. Those initial research trips led to the banker and other community members joining forces in 2000 to establish the Stuart Community Foundation Fund (SCFF), an NCF affiliated fund. Together, they set out to inspire their fellow residents to invest in Stuart's future.
Nebraska Community Foundation's 2011 Transfer of Wealth study update found that $10 billion of northern Nebraska's wealth—including Holt County—would transfer generations within the next 50 years. Just 5% of that amount, given as charitable gifts to unrestricted endowments, would mean millions of dollars for residents to invest in hometown improvements.
The donations secured by SCFF have funded some major community improvements in recent years, including amenities not often seen in smaller Nebraska towns.
"It's a great tool to support all the things we had been trying to do and are going to do in the future," Don said.
The Murphy Theatre and Media Center is one of the many projects in which the Fund played a pivotal role. Established in 2012, the theater has sold tens of thousands of tickets in the past eight years, bringing together not just Stuart residents, but movie lovers from across north central Nebraska and neighboring states.
"To see all the different county cars and even South Dakota cars, it makes you feel good that people want to go to your community," Stracke said.
Don and his family also played a big role in the recent campaign to bolster SCFF's unrestricted endowment. Over the past few years, SCFF has raised just about $500,000—money that can be used to strengthen the community as the fund advisory committee (FAC) sees fit. The Schmaderers helped the family of Mary Ann and Eugene Hoffman make a generous gift to the endowment in 2018.
"Now, all of a sudden, we're looking at $30,000 to $40,000 a year," Stracke said. "That's going to make a difference for us."
In addition to large scale projects like the theatre, SCFF has accounts for numerous scholarships, school activities, and more. Without Don's efforts to kickstart the affiliated fund, many of those efforts to enrich the community may have never come to be.
"If he hadn't got the ball rolling, we wouldn't have a lot of the things that we have today," Madsen said.
INSPIRING THE NEXT GENERATION
Wealth isn't the only thing changing hands in Stuart—the next generation of community leaders are also stepping up to the plate. They all strive to follow in the footsteps of leaders like Don and Sally.
Watching Don work led fellow FAC Member Jay Wallinger to find his passion for asset-based community development. Don's seemingly limitless knowledge of the area and his ability to connect with most everyone was a sight to behold.
"Just seeing how gracious he was to his community—not only in time but in treasure—left a huge impact on me," Wallinger said. "I can see him continuing that model."
And it's not just Wallinger taking cues from Don. Younger members of the Stuart community are all paying attention to the work of two of Stuart's many hometown stars.
"The young people are watching just as much as they always have," Wallinger said. "How he influences people, how he talks to people and how he envisions the future."
Those interested in becoming involved with Stuart Community Foundation Fund or learning more about the fund can contact Steve Brewster at sbrewster@nebcommfound.org.
PO Box 83107 8100 South 15th Street, Suite A, Lincoln, NE 68512 Phone: (402) 323-7330 Fax: (402) 323-7349